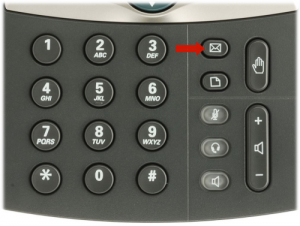 When your phone firsts arrives, it will have a voice mail button configured on it. This is the one that looks like an envelope, on the top right of the main set of buttons on your phone. Pressing it will take you to your voice mail. You can also access the voice mail system by dialing *97 from your phone. You will need the PIN assigned to your voice mail account in order to proceed with setting up your voice mail. Contact support if you do not know your PIN.
The first time you access voice mail from your phone, it will prompt you for your initial PIN and then guide you through changing your PIN and recording your name (but not your greeting). You may or may not have any messages at this time. If so, consult this guide for how to listen.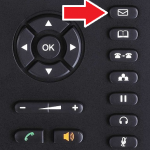 To set up your greetings, press zero. There are four types of messages that will be played to callers that reach your voice mail:
Unavailable message plays when your phone rings but isn't answered.
Busy message plays you are on the phone and do not answer the incoming call.
Temporary greeting, if recorded, will be played instead of your unavailable or busy messages. This is useful for a last-minute "out of office" message so that you do not have to re-record your unavailable and/or busy messages. Delete the temporary greeting when you have returned or if it no longer applies.
Name is played when the system announces that you're unavailable, or when your extension is chosen from a company directory.
It is strongly recommended to record at least your unavailable message and your name, as well as changing your password (PIN). If you do not record a busy message, the system will use your unavailable message instead (and vice versa).
Press 1 to record your unavailable message
Press 2 to record your busy message
Press 3 to record your name
Press 4 to create a temporary greeting
Press 5 to change your PIN
Once you have chosen an option, follow the voice prompts to verify your message and/or re-record it if you desire. You can change as many options as you want from this menu. Once complete, you can hang up or press * to return to the main menu.
You may also have voicemails sent to an email address of your choice, and then either saved or deleted on the system as well. Contact support if you want this set up or to change your email address.